The plug socket fittings in the ceilings in most of our apartments are equipped with lamp sockets (image 6), so the lamps must be equipped with a plug (image 7) which is compatible with the lamp socket. It should be possible to install the lamps without tools. The lamp is hung to a hook in the ceiling socket. The removal of the ceiling socket without an electrician is strictly prohibited. The location's property manager must be contacted in advance if such operation is desired.


There are also fluorescent lamps in our apartments (in kitchen and the toilets). The lamps are provided with an igniter (image 9). Failure of the igniter will cause blinking of the lamp and the igniter should be replaced. The igniter is located at the body of the lamp (image 10). The igniter is released by simultaneously gently pressing and turning it.
See how to change a fluorescent lamp ( Source Ryan Parker, eHow):
Some of our older apartments still have old kind of ceiling roses (image 8). Ensure, that the ceiling rose is securely attached to the cord coming out from the ceiling. In this case the lamps cords (2) may be connected on your own. Remember to switch the main power switch off before the connection.
The connection is made by inserting the lamp's cords to the ceiling rose's openings and tightening the screws. It doesn't matter which cord is inserted to which opening as the counterpart to the cord coming from the ceiling. The lamp is hung as usual to the hook in the ceiling socket. NOTE! If the ceiling rose is missing and the cords are hanging from the roof contact the property manager. Do not under any circumstances touch the cords.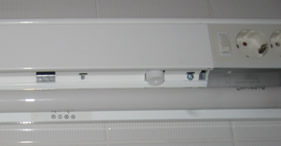 NOTE!
ALL OTHER CONNECTIONS AND ELECTRIC INSTALLATIONS ARE SUBJECT TO LICENCE. IF THE TENANT DOES THE WORK BY THEMSELVES IT IS AGAINST THE REGULATIONS BY THE AUTHORITIES AND MAY BE LIFE-THREATENING.
---
PSOAS offers rental apartments for students in Oulu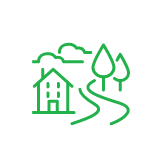 Learn more about the apartments and areas and fill in the application. PSOAS has shared apartments, studios and bigger apartments.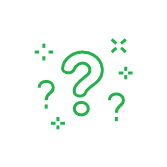 Read more about the student life at PSOAS and get to know the facts about living, applying and moving in.