Welcome to Flat exchange! Here, any PSOAS tenants can sublease their apartment to another student for a period of time, for example the summer. You can also sign up for a search of an apartment for yourself.
Sign up here | See all postings here
PSOAS tenants can sign up their apartment for subleasing for a maximum period of one year. Therefore, if you are going to another town for a summer job, internship, or out of the country for an exchange, you don't necessarily have to give up your apartment. Instead, you can sublease it for another student or someone staying in Oulu impermanently. If you are looking for a place to stay for a period of time yourself, can our Flat exchange be the solution in that case too.
PSOAS Flat exchange is only operating as an ad space connecting students and available apartments. Counterparts should always contact directly each other. The latest posts are at the top of the page and they are held on the list for two weeks at a time.
Sign your apartment up here
---
Looking to rent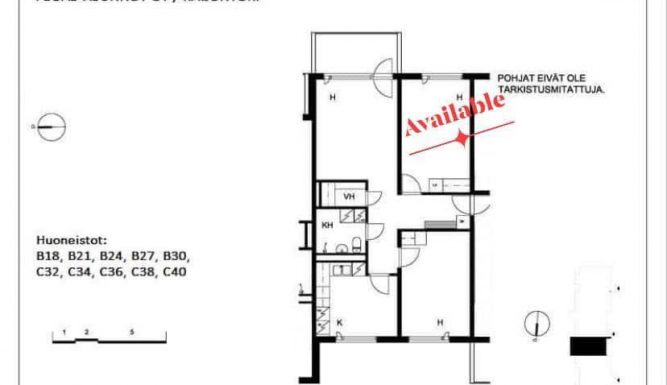 Tapiontie 7 B 18
Family - 3H + k, 74m2
297€ / mo
Leasing time
01.10.2020 - 28.02.2021
I want to SUBLEASE a room for female in a family apartment (2 BHK), newly renovated, very close to the university of oulu, Linnanmaa campus (just 5 minutes walk). The house is fully furnished with all the necessary amenities (eg TV, wifi, dishwasher, etc.) Well connected to bus stops and supermarkets are in 500 meters radius. -- WHAT a room in a family apartment (72 sq mt) --WHERE Tapiontie 7, very close to University of Oulu, Linnanmaa just 5 minutes walk -- RENT 297 euros (excluding electricity~15e pm) -- DESCRIPTION 72 sq mt furnished 2 bedrooms+ 1 living room, fully furnished with TV, sofas, etc. Kitchen space furnished with dishwasher, toaster, microwave, coffee maker, waffle maker, etc. 1 female flatmate balcony (yes) sauna (yes) laundry (yes) club room (yes) -- PERIOD Long term preferred (short terms would also work) AVAILABLE FROM 01.10.2020
NAMRATA BARUAH
0451287711
Namrata.Baruah@oulu.fi

Apartment wanted
Shared
max 400€ / mo
Hi, I am coming to Oulu as a researcher. I would like to find accommodation for one month during September.
Saranya Palaniswamy
+358415654204
saranyapalaniswamy15@gmail.com

Shared / Studio / Family
max € / mo
I arrive in Oulu in October, need accommodation near Oulu business school and shopping areas.
Hamideh Saadatmanesh

hamideh.saadatmanesh@gmail.com

---