Welcome to Flat exchange! Here, any PSOAS tenants can sublease their apartment to another student for a period of time, for example the summer. You can also sign up for a search of an apartment for yourself.
Sign up here | See all postings here
PSOAS tenants can sign up their apartment for subleasing for a maximum period of one year. Therefore, if you are going to another town for a summer job, internship, or out of the country for an exchange, you don't necessarily have to give up your apartment. Instead, you can sublease it for another student or someone staying in Oulu impermanently. If you are looking for a place to stay for a period of time yourself, can our Flat exchange be the solution in that case too.
PSOAS Flat exchange is only operating as an ad space connecting students and available apartments. Counterparts should always contact directly each other. The latest posts are at the top of the page and they are held on the list for two weeks at a time.
Sign your apartment up here
---
Looking to rent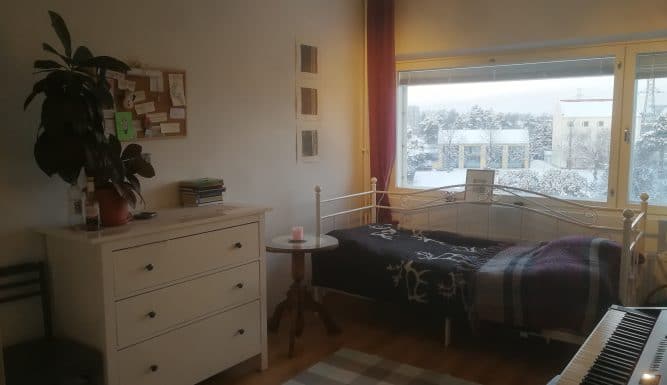 Toivoniemi 1 A 61/1
Shared (female) - 3H + k, 15.50m2
295€ / mo
Leasing time
15.02.2021 - 31.08.2021
I'm subleasing my room from a shared apartment in Toivoniemi. The apartment is for 3 women. Everyone have their own bathroom in their room and own fridge in the spacious shared kitchen. The flat is close to the center of Oulu and all the busses to the university pass by it. (The room is 15,5 m2 + mini bathroom)
Katri Kurkela
0449804652
katri.kurkela@hotmail.com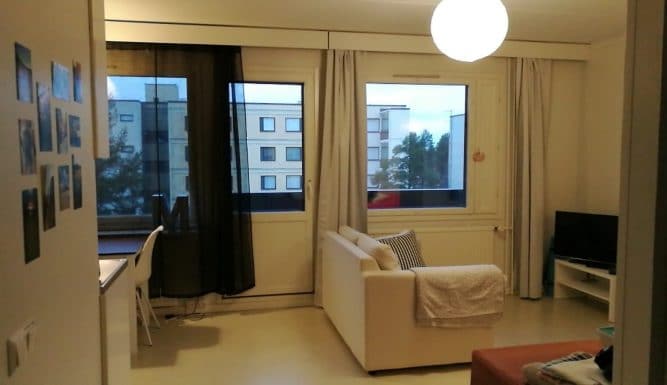 Tapiontie 13 C 43
Studio - 1H + k, 34.00m2
410,00€ / mo
Leasing time
01.01.2021 - 31.07.2021
Kalustettu yksiö lähellä Kaijonharjun keskustaa. Yliopiston Linnanmaan kampukselle kävelee alle kymmenessä minuutissa. Hyvät bussiyhteydet keskustaan. Vuokraan sisältyy sähkö, vesi, internetyhteys (langallinen, ei wifiä!). A furnished one room apartment near Kaijonharju centrum. Less than ten minutes walk to the university's Linnanmaa's campus. Good bus connections to the centrum of Oulu. The rent includes electricity, water, internet connection (wired, no wifi!).
Minttu Kahelin
0409389555
minttu.kahelin@student.oulu.fi

Apartment wanted
Studio / Family
max 300€ / mo
Olemme tulossa kesäksi Ouluun tyttöystäväni ja kissani kanssa. Mahdollisuus on myös järjestää kissalle eri hoitopaikka, jos ei saa lemmikkejä tuoda.
Santeri Haataja
0452566220
santerihaataja@hotmail.com

Studio
max 450€ / mo
Olen 19-vuotias nuori miehen alku Etelä-Pohjanmaalta. Aloitan kansainvälisen kaupankäynnin opinnot Linnanmaan kampuksella syksyllä 2021 ja etsin itselleni yksiötä. Olen sosiaalinen, urheilullinen ja energinen, ja soitan kitaraa. Suoritan tällä hetkellä asevelvollisuuttani Sodankylässä ja kotiudun kesällä 2021. Olen siis sotilaallisen siisti.
Heikki Vihma
0503588608
heikki.vihma@gmail.com

---