Welcome to Flat exchange! Here, any PSOAS tenants can sublease their apartment to another student for a period of time, for example the summer. You can also sign up for a search of an apartment for yourself.
Sign up here | See all postings here
PSOAS tenants can sign up their apartment for subleasing for a maximum period of one year. Therefore, if you are going to another town for a summer job, internship, or out of the country for an exchange, you don't necessarily have to give up your apartment. Instead, you can sublease it for another student or someone staying in Oulu impermanently. If you are looking for a place to stay for a period of time yourself, can our Flat exchange be the solution in that case too.
PSOAS Flat exchange is only operating as an ad space connecting students and available apartments. Counterparts should always contact directly each other. The latest posts are at the top of the page and they are held on the list for two weeks at a time.
Sign your apartment up here
---
Looking to rent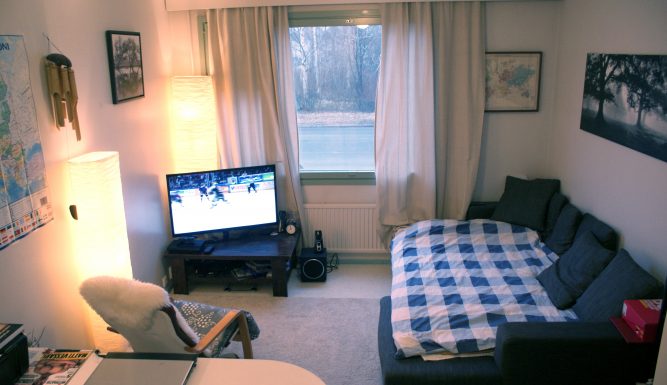 Puistokatu 6 B 256
Studio - 1H + kk, 21.00m2
271.14€ / mo
Leasing time
01.04.2021 - 31.08.2021
Studio apartment with 1H+k, 21m², bathroom, cupboards, stove, oven, a fridge. Unfurnished but I have a bed and a chair you can use. Electricity, Heating, WiFi and water included in rent mentioned (no more than actual PSOAS rent+electricity). Other PSOAS facilities like laundry, sauna, gym, club room, storage, garbage disposal etc. except home insurance. Nice area surrounded by parks. Stores and city centre are within walking distance.
Niyati Kandikanti
+358 44 9106384
niyati.kandikanti@gmail.com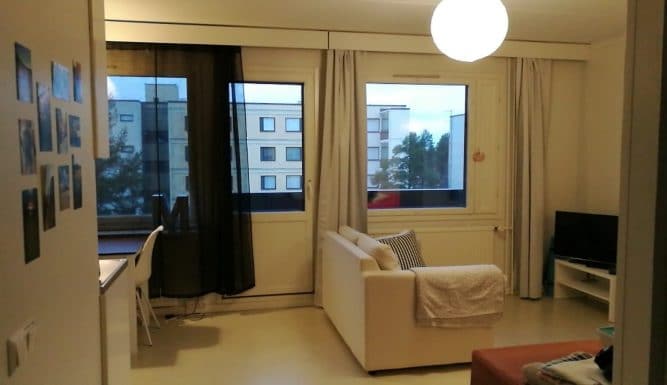 Tapiontie 13 C 43
Studio - 1H + k, 34.00m2
410,00€ / mo
Leasing time
15.06.2021 - 31.07.2021
Kalustettu yksiö Kaijonharjun keskustan kupeessa. Yliopiston Linnanmaan kampus kävelymatkan päässä. Hyvät bussiyhteydet keskustaan. Vuokraan sisältyy vesi, sähkö, kotivakuutus ja netti (johdollinen, ei wifiä!). A furnished one-room apartment near Kaijonharju centrum. A short walk away from the university's Linnanmaa campus. Good bus connections to the centrum of Oulu. The rent includes water, electricity, home insurance and internet (wired, no wifi!).
Minttu Kahelin
0409389555
minttukahelin@gmail.com

Apartment wanted
Studio
max 430€ / mo
Olen 24-vuotias kauppatieteiden opiskelija Turun Kauppakorkeakoulusta. Tulen kesäksi töihin kotikaupunkiini töihin Verohallinnolla. Etsin ensisijaisesti asuntoa keskustan lähi-alueilta. Asunnon vuokra-aika on sovittavissa tarpeiden mukaan.
Juho Sorri
0407034587
juhosorri@outlook.com

Studio
max 500€ / mo
Olen 31-vuotias journalismin opiskelija Helsingistä. Minulle on tarjottu kesätöitä Kalevan toimituksesta ja haen yksiötä läheltä toimitusta alustavasti ajalle 31.5. - 31.8.2021.
Olli-Pekka Toivanen
0400987281
olli-pekka.toivanen@myy.haaga-helia.fi

Studio
max 300€ / mo
Hei! Olen 20-vuotias taidehistorian opiskelija ja tulossa takaisin kotikulmille Ouluun kesätöihin, joten täten olisi etsinnässä kesäksi yksiö Oulun keskustan alueelta. Soita, tekstaa tai pistä meiliä mikäli sulla olis kämppä vapautumassa!
Ella Pekkala
0403504272
ellapekkalaa@gmail.com

Shared / Studio
max 100€ / mo
Oulusta kotoisin oleva opettaja. Vakinaisessa työsuhteessa Vantaan kaupungilla.
Anne Lappalainen
0415225006
anne.marjut.lappalainen@gmail.com

---