The winner of PSOAS tenant committees' Ideas Competition came up with an idea that could end the questionable reputation of Oulu as rich pickings for bicycle thieves.
Almost every student in Oulu has experienced the moment when the heart misses a beat and the knees give way: you should be on your way to the lecture, but instead stare at an empty space in the bike rack where you left your bike the night before.
The situation is also familiar to Joona Rintamäki, who lives in Domus Botnica, in Toivoniemi. While living in Linnanmaa, Joona had the saddle and odometer stolen from his bicycle. In Toivoniemi, the entire bike was taken when it was not attached to a bike rack by its frame.
Then Joona spotted the Ideas Competition organised by us and the tenant committees. The winner of the competition would win €5,000 towards developing their idea. We wanted the winning idea to have a long-life span and benefit the residents.
Joona's competition idea was to install ​​chains on the Domus Botnica bike racks, which would be used to attach bikes to the rack by their frames. The idea was so functional and practical that we chose it as the competition winner.
Joona had thought about the bike racks and felt that even though some of them have chains, they do not have an end piece with which the bike could be attached. Joona was surprised by his win, as he didn't think his idea would go far in the competition.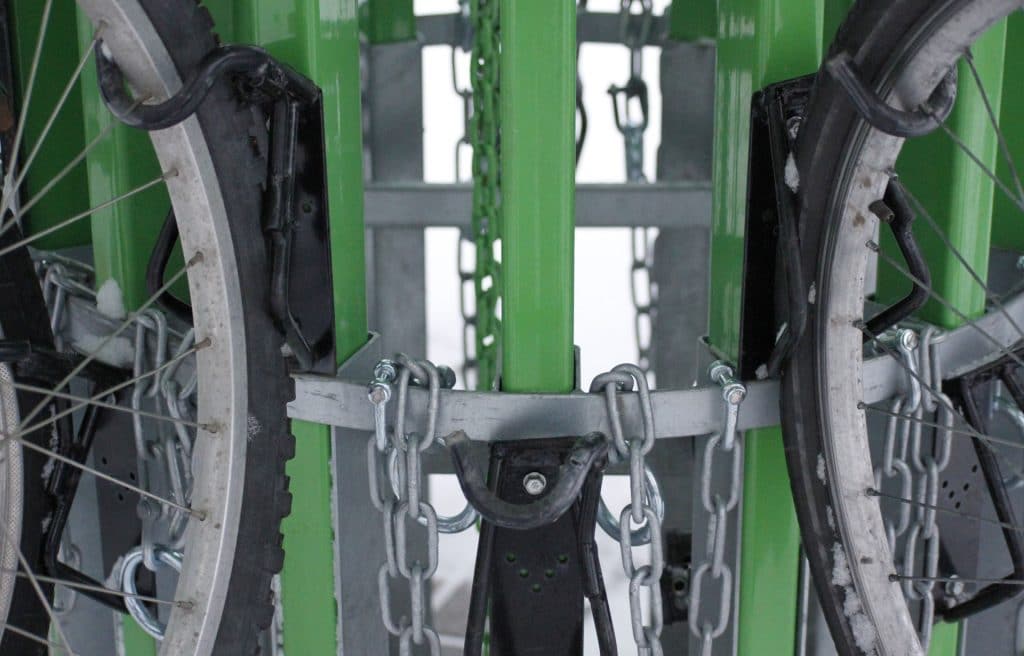 The winning idea will also be used at other properties
As a result of Joona's win, chains were added to Domus Botnica's bike racks in late 2018. The idea is so good that we will also install chains to the bike racks of our other properties. They will first be installed at properties where statistically most bicycle thefts occur.
Bicycle thefts are a big problem everywhere in Oulu, but particularly so in Toivoniemi because of the lack of proper bicycle storage facilities. The dark quiet courtyard attracts bicycle thieves in the evenings. In this part of the city, it is only a matter of time before a bicycle is taken, especially if it is a quality bike of high value.
The bike racks of Toivoniemi were erected during refurbishments to the property. The impressive racks were designed by an architect. However, the chains in them were not intended to secure bikes, but to control the flow of water. The new chains are attached to the side of the racks so that bikes can be attached even if they are not in the rack. Having the chains does not completely prevent bike thefts, but at least it makes it more difficult.
We at PSOAS are very pleased with the outcome of the Ideas Competition. It is nice to organise such competitions, because this way we get direct feedback from the residents on how and in what direction we should develop our operations.
Matti Rimpinen, Tenant Manager