36 years of developing better housing: Reijo Suomela has laboured over the construction and maintenance of housing at PSOAS since 1980. Reijo will retire from his current post as a technical administrator after 36 years of diligent service. Over the years, Reijo has been an important part of PSOAS and played a significant role in the development of student housing in Oulu. On his last day at work, he warmly remembers the past years and sheds light on what has motivated him to stay at PSOAS for such a long time. Reijo's mantle will be assumed by property manager Leena Neuvonen, to whom quality student housing is just as important as to her predecessor.
It has been easy to commit to a good team
Before PSOAS Reijo worked as a frequently travelling foreman in a construction company, after which moving on to PSOAS was a meaningful choice because of the fixed location of the job. The new work community took Reijo warmly welcome and it later turned out to be really important for him. "I don't know if this is just a coincidence, but I haven't had anything to criticise on my co-workers, but on the contrary. It has been a pleasure to be a part of this bunch, in which I'm by no means the only one that has been working for a long time. PSOAS seems to have a principle of sticking to their employees, as there are a lot of long-term employees. Respect is mutual", Reijo explains.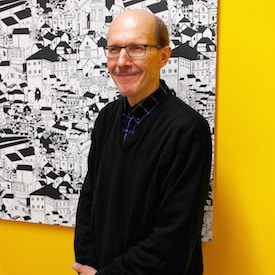 A fair employer that gives responsibility and objectives
When asking what made Reijo to commit to PSOAS for such a long time in addition to good colleagues, he quickly finds a common denominator in a number of his duties at PSOAS. "While I have been working here, I have always liked that I have had completely free hands in how I do my job. The objectives that have been set for me have always been fairly simple, but extensive: the housing has to be in good condition, so that the residents wouldn't turn on their heels at the doorstep but become long-term residents. In order to fulfil these objectives, a wide range of measures have been implemented and I must say, that also successes have been achieved thanks to lengthy efforts", Reijo rejoices.
From dormitories to student housing
When Reijo started at PSOAS students typically lived in dormitories, where residents had their own rooms and common areas to share with the other residents. According to Reijo, the role of PSOAS as a landlord and maintenance operator at the time was a little bit different than today.
"In the dormitories the turnover of the residents was relatively high – hardly a wonder why anyone would live in a single room for a long time. At the time, we had a lot of staff on duty to take care of the condition of the dormitories including cleaning up of the room and even supplying toilet paper", Reijo recalls.
In addition to the dormitories, construction of apartment buildings was started. In them the students would have a better possibility to live long-term. For this, in addition to building new housing, large modification work was made to the old dormitory buildings. Välkkylä area houses can be seen as an example of this. Shared apartments are nowadays an important part of PSOAS housing services, for example for exchange students. According to Reijo, the activity has however concentrated on the most essential activities of the residents. "Today, the housing areas are no longer cleaned nor any goods delivered to the apartments, but we concentrate on renting and constructing housing and maintaining it. Even toilet paper will be acquired to the apartment by the residents themselves nowadays", Reijo laughs.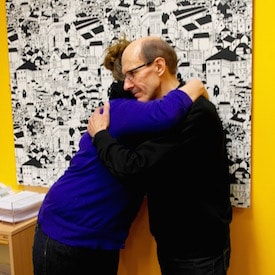 The residents' voice is to be heard
According to Reijo, the activities of PSOAS has over the years changed into more resident-oriented. "In addition to plain living, student life includes so much more, as we have learned from the residents. Today, the students appreciate that they can influence the pleasantness of their residential environment and the possibilities for residents to arrange joint free-time activities and recreation. That is why we develop activities further according to residents' initiatives and feedback, which will increase with time. Of course we have along these lines fulfilled all kinds of requests, as long as it doesn't involve some kind of extreme parties", sneers Reijo.
In which direction in the future?
Both Reijo and his successor Leena agree on the future direction of student housing: in order to make PSOAS' apartments interesting for the students on the modern housing market, they have to offer much more than just low-cost rents. Reijo shares his view-point from the field of the construction:
"In the past, construction was a bit like just compliance with the standards and one didn't show off too much with the design of the buildings. Nowadays the trend is to make all of the properties unique and youthful both inside and outside." Leena, who has worked with the building industry in the past, adds that in the future housing will be sought to be built more energy-efficient and environmentally friendly.
Leena, who is from Oulu, mentions the sense of community and the regional concentration among the students. "We want that our residents would have fun to live at PSOAS. This apparently means that the residents have to have good opportunities to spend time together and that the residential spaces need to be colourful and modern. In addition the will is to concentrate to areas, where it is rational for the students to live according to the locations of the schools. Let us not establish any shabby cribs on the remote areas", laughs Leena.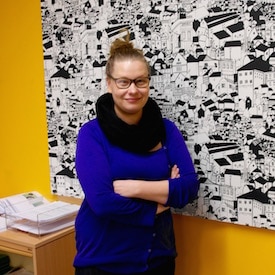 The post will be handed in a rather sad but confident mood
The work at PSOAS has been so meaningful for Reijo, that his retirement days have come quite unexpectedly. "We have worked with Leena in the same room for a couple of months now and it feels like that we have learned how to work together real well. Of course it is a bit confusing to leave from here like this, but I don't doubt at all that the smalls' was taken as a concert, such as it happened to me.
Leena isn't afraid of the responsibility that rises from retirement, but she is facing the fact with a relaxed mind. "I have innovated so many ideas in order to develop student housing, and I don't feel any kind of uncertainty with implementing them! I will assume my new job without any uncertainty to begin achieving them! I will accept my future job with a humble mind and I know, that I could succeed especially in this work-group, where people would have helping and supporting others as a base pillar for activities."